Home > Latest News
---
Year 2020
Masks4All Movement launched in Malaysia
Published: July 08, 2020
GEORGE TOWN, June 30 -- Follow the guidelines correctly and it is possible to protect the planet while protecting yourself from COVID-19 using a reusable face mask.
CNI Enterprise (M) Sdn Bhd gave away 1,000 washable face masks to three non-governmental organisations – Mr. Gan Zhi Jia Ltd, Penang Fo Yi Hemodialysis Society and Pure Lotus Hospice of Compassion – during the launch of its Masks4All Malaysia Movement in Perak Road today which is aimed at reducing pollution and protecting health.
The first phase of the campaign from June 30 - July 11 will see the company distribute reusable face masks to selected residential areas in Penang, Perak, Kedah, Johor and Kuala Lumpur.
CNI representative, Cheng Lee Yen, pointed out that there have been numerous instances of disposable face masks and gloves being improperly discarded, and because they are made from petroleum-derived plastic, can cause pollution.
"We want to protect ourselves from COVID-19, but not necessarily by using disposables. We can use reusable face masks and observe social distancing in order to protect ourselves while preserving the environment," she told reporters.
She said that disposable face masks and other personal protective equipment should be reserved for use by medical and healthcare personnel for safety purposes.
"CNI believes this contribution can help the community and environment, as well as ensure our healthcare providers have the essential medical equipment and supplies to fight COVID-19," she added.
Kempen 'Masks4All' CNI galak pakai pelitup muka
Published: Julai 08, 2020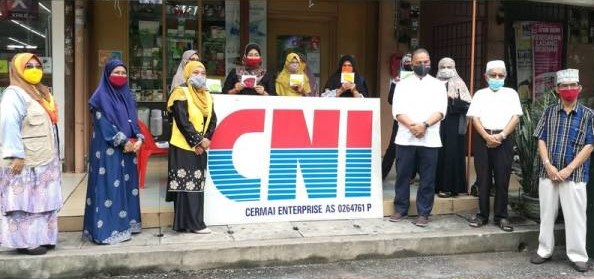 SYARIKAT jualan langsung, CNI Enterpise (M) Sdn Bhd menganjurkan kempen 'Masks4all' bagi menggalakkan setiap individu menggunakan pelitup muka yang boleh digunakan semula dalam memerangi wabak koronavirus (Covid-19).
Pemilik Pusat Gaya Hidup Sihat CNI Changlun, Siti Rawan Ahmad berkata, kempen berkenaan bukan sahaja memelihara alam sekitar melalui penyelesaian kitar semula, malah dapat mengurangkan pembuangan pelitup muka secara tidak betul.
Menurutnya, pelitup muka diperbuat daripada kain yang selesa digunakan itu diedarkan secara percuma sebagai tanggungjawab sosial (CSR) menerusi Yayasan CNI.
"Pelitup muka ini boleh dibasuh dan digunakan semula, ia selamat digunakan dan mesra alam.
"Ini antara sumbangan CNI kepada masyarakat ketika negara berdepan wabak Covid-19.
"Sebanyak 1,000 unit diedarkan kepada penduduk, persatuan ibu tunggal serta usahawan kecil yang sentiasa bergerak mencari rezeki agar menjaga diri dan kesihatan," katanya selepas penyerahan pelitup muka guna semula kepada 10 wakil yang disempurnakan oleh Ahli Parlimen Kubang Pasu, Datuk Amiruddin Hamzah di sini semalam.
Sementara itu, Amiruddin menyifatkan usaha CNI wajar diteruskan dalam mendidik orang ramai menjaga kesihatan diri selepas pasca Covid-19.
"Penggunaan pelitup muka guna semula ini baik untuk alam sekitar. Jangan leka walaupun kita kini berada di penghujung Perintah Kawalan Pergerakan Pemulihan (PKPP) kerana kebarangkalian wabak berulang tetap berisiko seperti berlaku di Australia," katanya.